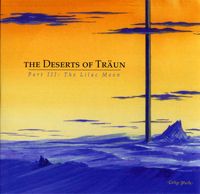 Artist: The Desert of Traün
Album: Part III: The Liliac Moon
Label: Bruhtal Shocks
Format: CD
Released: 2003
Genre: Avant Garde
Style:
Jazz, Funk, Classical, Black/Death Metal, Rock, Fusion, World, Video Game, and Electronic Music
Dave Murray (Ex- Estradsphere) was one of the driving creative forces of Estradasphere, and after his leaving the band, he decided to create a band after his own liking. Now, this is decidely not Estradasphere, despite it being of a similar formula, combing seemingly unrelated genres effectively into an odd tapestry of musical genres. However, The Deserts of Traun is a different entity altogether, with a completely different feel.
Instead of granoise compositions and longer tracks, TDoT uses much smaller and concise tracks, even drawing some comparisons to Fantomas, instead of Estradasphere. The songs feel, as they should, and are named as, like the sound track to an adventure movie, full of suspense and exotic locations, which the music pulls off wonderfully. The music has just about everything, from creepy ambient death metal, to ethnic folk music, to classical, to jazz and so on and so forth.
A very fun and interesting album, but one that should be listened to along with the visual aid.

Track list:
01 Awaiting The Majesty Of Extremes.
02 The Detective In Disguise.
03 Report To The Fruitless Kingdom.
04 The Detective & Gary Prepare.
05 Searching The Swamps.
06 The Court Of The Blackmetal Princess.
07 Escape From The Crystal Caverns.
08 Descending The Crystal Mountain.
09 The Desert Of Träun.
10 Greetings From The Lilac Moon.
11 Seeking The Navigator.
12 Prisoner In The Brig.
13 Battle Upon The Space Galleon.
14 Awaiting The Sun.
15 Sailing The Electrolytic Ocean.
16 The Gift Of The Whirlpool Vortex.
17 Longing & Foreseeing.
18 The Uncompromising Blizzard.
19 The Cave.
20 An Unlikely Visitor.
21 Infiltrating The Fortress Of Absolute Zero.
22 Showdown In The Atrium Of Fallacious Foliage.
23 Homecoming In The Fruitless Kingdom.
24 The Destruction Of The Elevator.
The Deserts of Traun - Part III: The Lilac Moon